Woohoo! The end of a challenging school year is almost here. It's finally warming up. What sweet relief it will be to finally get out of the house and enjoy the outdoors. Celebrate summer with the ones you love by taking advantage of all the beauty and recreation opportunities around us.
Here are ideas on how to spread your wings safely — from secluded and outdoorsy getaways, to cool Airbnbs and Vrbos, to national parks within driving distance. Cheers to making the most of summer!
5 Secluded & Outdoorsy retreats
Looking for a summer vacation destination without the crowds? These scenic getaways are often quiet with ample opportunities for outdoor exploration.
Marquette, Michigan
In the Upper Peninsula of Michigan is the vibrant terrain of Marquette, where you can paddle past multi-colored picturesque rock formations, hike to panoramic shoreline views, be mesmerized by brilliant blues and greens of 70 dramatic waterfalls, and soak in the cool colors of sunsets reflected upon mirror-like waters. If you're brave, jump off Blackrocks into the cold waters of Lake Superior. Or visit McCarty's Cove swimming beach that features a lifeguard, volleyball, picnic tables, grills, a playground and views of the Marquette Harbor Lighthouse.
Rent bikes from West End Ski and Trail and pedal a portion of the 47-mile Iron Ore Heritage Trail. Six miles north of downtown Marquette, you can hike Sugarloaf Mountain for some of the most incredible views in the U.P. Stay at Rippling River Resort where you can enjoy 57 acres of secluded natural beauty by the Carp River in a luxury log cabin or rustic tent site.
Getaway Barber Creek, Michigan
Getaway is a super cool company that provides nature escapes within a few hours of major cities, which you can rent by the night. Getaway Barber Creek opened in Grand Junction in April. Disconnect from technology while nestled in nature with a tiny cabin retreat. Huge picture windows beckon you to slow down and take in the sunrise or snuggle up watching the stars. Put your cellphones in the lockbox to help you completely unplug, recharge and reconnect as a family.
Bunk beds fit two-four people. You don't have to interact with others if you don't want to as there's no front desk. A door code will be sent to you in advance. Enjoy simple times bonding around a campfire and trekking around the Kal-Haven Trail via bike or foot. South Haven is also close by, with a beach, farmers market and more to explore.
Camp Aramoni, Tonica, Illinois
Near Starved Rock State Park, this new luxury campground opens Aug. 1-Oct. 31. Featuring semi-permanent safari-style tents from South Africa, upscale amenities and chef-driven cuisine, it is the first and only luxury campground in Illinois. Book your secluded, socially distanced escape on a 96-acre property boasting indulgent amenities.
Two of the tents, Big Bluestem and Sweet William, are geared towards families. Each includes two sets of twin bunks beds, plus additional beds for the parents. En-suite bathrooms, soft linens, private decks, heating, air conditioning and mini fridges make for the nicest camping experience you might ever have.
Spend your days exploring the private shoreline, hiking, riding bikes or swimming (no lifeguards on duty). The kids will get a kick out of the general store and parents will love the locally sourced breakfast. Stop by the Airstream bar for coffee by day and cocktails in the evening.
Red River Gorge Treehouses, East Central Kentucky
Outdoor enthusiasts will be excited for an expedition to the Red River Gorge. Its natural playground of canyons, dramatic cliffs and sandstone arches in the Daniel Boone National Forest will feel like a breath of fresh air. Hike the Sheltowee Connector/Suspension Bridge over the Red River and wade in the banks of a natural swimming hole. Climb rocks, ride horseback and canoe the days away. You can also watch Kentucky horse racing at Keeneland.
Savor a suspended sleepaway at Red River Gorgeous Tree Houses. The Tradewinds Treehouse is actually twin treehouses perched in the canopies with a private bath house, slide to the ground and a spring-fed hot tub. Adventurous families will seize the day in the newest extreme tree house, The Cliff Dweller, which is mounted along the cliff and accessed by a giant floating staircase.
Southern Illinois
Shawnee National Forest offers some awesome hiking opportunities and secluded small towns worth exploring with your crew. Stay at the Big Sky Cabin in Alto Pass to enjoy the beautiful landscapes of Giant City State Park and Shawnee Hills Wine Trail by day, then a large firepit, pool table and arcade games by night.
Zip through the trees with Shawnee Bluffs Canopy Tour and ride horseback with Giant City Stables. Visit Rolling Oak Alpaca Ranch to spend time amongst fluffy alpacas. Adults will love Blue Sky Vineyard, which features a Tuscan-inspired interior, yummy pizza and a super-friendly staff. The Kitchen on Lafayette and The Iron Whisk serve up some delicious home cooking.
Or stay at the Davie School Inn in Anna, which is an old-school building turned B&B. It's super fun to play in the gym, sit at the old school desks and the owners make the most incredible breakfasts. The treehouses at Timber Ridge Outpost & Cabins are another bucket list-worthy stay, by the glorious Garden of the Gods.
Sweet Escapes 
Wow the kids with these unique staycation-away-from-home spots
Looking for a nearby escape to private, super cool accommodations? Check out these awesome Airbnbs and Vrbos where you can soak up nature and enjoy extra outdoor time with your crew.
The Lost Tee Pee, By the Mackinac Bridge, Michigan
Just big enough for a parent-kid adventure or romantic evening with your sweetie, this tee pee is located 30 feet from Lake Michigan, near the Mackinac Bridge. Take in spectacular sunsets, gaze up at twinkly stars, then fall asleep surrounded by natural beauty and the sound of waves lapping the pier. There's one bed for snuggling inside the tee pee and use of a shared bathroom included.
Animal lovers
will swoon over a stay at this hobby farm, where you can collect eggs, pet bunnies and ride horses. This recently renovated farmhouse is surrounded by 30 acres of open space in a picturesque valley.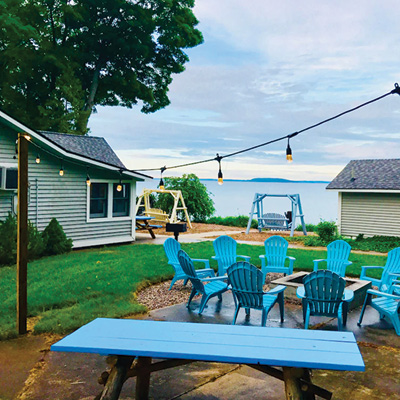 Talk about a private retreat with your closest friends and family! Your pod can rent out four private tiny cottages on West Bay in Northern Michigan for a vacation all to yourselves. Savor 100 feet of private waterfront right outside your door.
This adorable silver camper fits up to four guests with one bedroom and one bath. Permanently located at Petite Lake Resort's RV Park, it's a short walk to the beach and docks. Rent a boat or play in the sand all day, then enjoy s'mores around a campfire at night.
Hidden Ridge at Otter Lake, Girard, Illinois
Just 10 minutes from historic Route 66, you can spend the night in a canvas tent on a wooded retreat at Otter Lake. This off-the-grid getaway is perfect for those looking to fish, toss bean bags, kick back and relax.
Camper Ready for You, Any Rend Lake Campground, Bonnie, Illinois
Want the experience of camping in an RV near water without the stress of setting it up or hauling it? This Airbnb host does all the work, delivering the four-person camper to any slot you book at a Rend Lake area campground, plus hauling it away and dumping the refuse after you're done. You can even rent kayaks or firewood from the owner, too.
A yurt is a large, round semi-permanent tent. This one includes a kitchen, bathroom, couches, TV, beds and more. Roam 20 acres of private forest near the Manistee National Forest, then rest comfortably at night.
This super cool barn house would make an awesome escape for you and your 22 closest peeps.  Not only is it huge, modern and located on a beautiful bluff, but it features a beach room with a sandy floor, a slide down from the second floor, and a game room with mini air hockey, mini ping pong, karaoke and more. Located near waterfalls, hiking and golf, your group is sure to have an unforgettable time.
Nature Trippin'
National parks have always ranked high on family travel lists; yet the pandemic has increased our emphasis on exploring the outdoors. While you may have dreamed of visiting Yellowstone or Yosemite, did you know that there are several national parks within driving distance of Detroit? Here are a few that you can get to in a day — including a brand-new national park — and a couple that you could even make a day trip.
Distance: 9 hours from Chicago
The country's newest national park, this is the first national park in the ruggedly beautiful state. Shake off those cooped up feelings with a visit to Adventures on the Gorge, one of the best adventure resorts in the country, adjacent to the national park. Stay in one of the private cabins with a hot tub and kitchen, or rough it at a campsite. Spend your days zip lining, braving it across the world's highest Bridge Walk, rappelling, mountain biking, kayaking, stand up paddle boarding, hiking and more.
Kids ages 4 and up won't forget their trek across the aerial obstacle course. Make it super memorable with a MoonTrek visit, when the course is aglow with thousands of lights at night. Traverse across a 24-inch-wide catwalk beneath the New River Gorge Bridge 850 feet above the New River for stories you're sure to tell for years to come.
Distance: 8.5 hours from Chicago
The nation's most visited national park showcases ancient mountains with awe-inspiring hiking opportunities, adorable cabins galore, and possible black bear sightings, too! Southern Appalachian mountain culture, abundant flora and fauna, waterfalls and log bridges beckon you to explore.
Nearby Pigeon Forge boasts loads of family fun for those seeking more than nature expeditions. Visit The Island in Pigeon Forge for a spin around The Great Smoky Mountain Wheel or any of their countless family-friendly rides. Take off in the world's first zipline coaster or marvel at the strengthen and skill demonstrated in the lumberjack show at Lumberjack Feud. While you're there, don't miss Dollywood, the renowned theme park, which features family-friendly shows, rides, an outdoor water park and lip-smacking southern food. You can go rafting in the Smokies, too!
Distance: 6 hours from Chicago
The world's longest underground cave system is just south of Louisville. Not only can you spelunk the limestone labyrinth, but also hike 53,000 acres of rolling hills, river valleys and lush forests. Make sure to book cave tours in advance. Read "Journey to the Bottomless Pit", a book about enslaved guide Stephen Bishop, before your visit. See if you can spot tiny bats inside the underworld, which rangers call "fuzzy chicken nuggets." Stay at the rustic cabins inside the park for easy access to the trails.
Numerous family-friendly activities surround Mammoth Cave National Park. At Dinosaur World, you can dig for fossils or excavate gems. At Kentucky Down Under Adventure Zoo, you can feed kangaroos. Visit nearby Bowling Green for a tour of the National Corvette Museum, where you can view the sinkhole that swallowed eight Corvettes in 2014, then scoop up some cheese fondue and gourmet burgers at Gerard's 1907 Tavern. Also, Chaney's Dairy Barn is great for fun on the farm and homemade ice cream.
Distance from Chicago: 5 hours from Chicago
This outdoor oasis near Cleveland moved into the top 10 most visited national parks in 2020, to the 7th spot. The park consists of 33,000 acres of leafy trees, grassy valleys, cascading waterfalls and historic farms. Spend your time hiking, biking and viewing wildlife. The 60-foot Brandywine Falls is a showstopper. Rent bikes from Century Cycles and pedal the historic Ohio & Erie Canal Towpath Trail. Hop aboard the Cuyahoga Valley Scenic Railroad for a 2.5-hour roundtrip ride. Kids with national parks passports will be delighted to have the conductor stamp theirs.
Families often stay in Independence, which is close to the park. Drive over to Cleveland for the Great Lakes Science Center, an excellent, interactive science museum. Melt Bar & Grilled is a cool place to grab a gooey, gourmet grilled cheese. An hour and a half from the national park, you can sleep in the treetops at The Mohicans Treehouses.
Distance from Chicago: 1 hour from Chicago
Some of the most challenging hiking terrain in the Midwest exists here. While climbing towering sand dunes can make your heart pound and your legs quiver, the views of blue Lake Michigan below are exceptionally rewarding. Cowles Bog is a favorite trail to wander past black oak savannas, swamps, marshes, ponds and dunes to the sandy beach.
Tackle the 3 Dunes Challenge at nearby Indiana Dunes State Park. It's fun and relatively fast, but be warned, it goes up over 500 vertical feet across three sand dunes.
Don't miss Albanese Candy Factory in Merrillville for road trip treats. This candy store boasts the World's Best Gummies, but the sheer variety of nostalgic candies are worth the attention.
If you're spending the weekend or longer, stay in nearby New Buffalo, Mich. Rent a beach house and grab some grub at The Stray Dog Bar & Grill. Stop by Oinks Ice Cream for a cone of Michigan Pothole. Kids can play on the playground as you watch the sun say goodnight.
Distance from Chicago: 9.5 hours from Chicago
One of the quietest national parks in the U.S., this gem is a must-see for adventurous voyagers who love starry skies and water. One-third of the park is water, so rent your own houseboat to explore in a secluded setting. Plus, most houseboats come with their own water slide. Score!
At this newly certified Dark Sky Park, you'll be wowed by meteor showers and the chance to see the other-worldly hues of the Northern Lights. You can hike the forests, kayak and canoe the islands and rivers.
Camp on the beach in your own private cove. Swim, paddle and watch wildlife like eagles, moose and beavers. Stop by the Historic Kettle Falls Hotel & Dam, one of the few places where you can look south into Canada.
---
Follow Metro Parent on Instagram.